Bauer's Restaurant in the Hotel Moseltor
Fresh ingredients in the rhythm of the seasons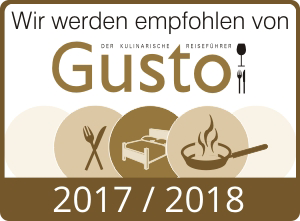 Treat your palate to luscious seasonal dishes in Bauer's Restaurant.
Sit back, relax and indulge yourself in our exquisite "Cusine régionale".
Fresh on your table, direct from the local market, that's our golden rule.
Enjoy a remarkable evening.
Selected products of the region
Our well-known "Cusine régionale" and selected products of the region make an evening in "Bauer's Restaurant" a remarkable event.
Opening hours of the restaurant

Bauer's Restaurant is open from Thursday to Sunday.  You can place your order from 6 pm to 8 pm

In order to be able to offer our holidaymakers variety in the house, we have a small but constantly changing range of selected dishes.

Since we basically want to be there for our guests who move to the region, we have our restaurant open from Thursday to Sunday.

We reserve in advance only for house guests. Guests without a room reservation can ask for places at short notice, on the same day.